Vietnam is an amazing country, filled to the brim with wonders both ancient and modern. In fact, there is so much to see, knowing how long to travel to the country can be a hard choice. Obviously, the longer you stay the more things you can see. But what if you have limited time to travel in? How much can you see in the country in 5 days, or should you travel for a week, or maybe even two? A tour in Vietnam can be for as long as you want it to be, and there are tours and itineraries to suit everyone.
Vietnam in 5 Days - Have a First Impression
If you have a limited time to travel, say around five days, then it is best to stick to just one of the three regions of Vietnam at first and visit the others on separate trips.
Vietnam is a long country and is split into three distinct regions, both for geopolitical reasons and because of the three climatic regions of the country and the different weather systems.
Visit North Vietnam in 5 Days
The best option for visiting North Vietnam is to start and finish your trip in Hanoi, where the airport is, and travel out to Halong Bay, with its famous Islands and open coastal waters sparkling in the brilliant sunshine. You can discover the ancient city of Hanoi, the capital of the country and the center of the colonial period of French Indochina. After exploring Hanoi on foot for a couple of days, you can take the trip to nearby Halong Bay, the renowned UNESCO World Heritage Site, with its spectacular emerald waters and its mystical limestone karst formations.
Visit South Vietnam in 5 Days
For a trip to South Vietnam, it is best to start with the wonders of Ho Chi Minh City, the former Saigon, and see the sights in this jewel of Asia first, and experience the amazing modern atmospheres at night. Then, you can head out of the city to explore the expansive Mekong Delta, the vast open waterway system that makes up the mouth of one of the longest rivers in Asia.
Experience the night of Ho Chi Minh City with locals leading.
Visit Central Vietnam in 5 Days
Visiting Central Vietnam is the adventure of a lifetime, where you can tour around ancient former Imperial capitals such as Hue and Hoi An, and discover the remnants of this ancient Buddhist culture and the stunning Imperial architecture that still stands in many of the towns and cities along Central Vietnam's coast.
Vietnam in 1 Week - More Highlights to Explore
Add a few days to your Vietnam tour, and you can also include additional places to visit or combine two regions into one trip. One of the best places to visit within 7 days in North Vietnam is Sapa, a remote valley town northwest of Hanoi that is renowned for its rice terraces and cool mountain views.
Combining two regions, North/Central or North/South means that you can cover more ground and see more of Vietnam's amazing attractions, and with a week to spend, you can easily combine a trip to two of the three regions of Vietnam. And with the ease of travel by train or flight internally, it is easy to get from one region to another.
Vietnam in 10 Days - For Immersive Experience
A longer 10-day Vietnam tour allows you to discover a more immersive experience of Vietnamese culture and history, giving you the opportunity to travel to more of the ancient sites and cities that are most popular for travelers. One of the most recommended routes for 10 days in Vietnam starts in Ho Chi Minh City in the south and makes its way north to the wonders of Halong Bay.
Starting with the former city of Saigon, you can spend a few days sightseeing around this modern masterpiece of architecture, before heading out to spend some time exploring the famous Mekong Delta.
Visit Hoi An old town with local travel guide to experienc the best of Vietnam.
Then take a short flight to Da Nang, and take a 45-minute bus to Hoi An, one of Vietnam's slow-paced cities and a fusion of Vietnamese, Chinese, Japanese, and French influences. A former trading port, it is like stepping inside a live museum. Then take a short ride up the coast to Hue, the former Imperial capital of ancient Vietnam, with its Complex of Hue Monuments and the ancient Imperial City complex, incorporating the Forbidden Purple City.
Then take a flight north to Hani, and spend some time exploring this bastion of French Indochinese culture, with its wide boulevards, European cypress trees, and typically-French architecture. And final, head out to the famed Halong Bay and enjoy the beautiful emerald waters, the stunning limestone karsts, and the spectacular caves and beaches, many of which can only be reached by boat.
Vietnam in 14 Days - For In-depth Adventure
A two-week Vietnam tour would easily give you enough time to explore the country properly and discover its wonders in more detail. You can start the trip in Saigon, now known as Ho Chi Minh City, one of Asia's most modern cities and the jewel of modern Vietnamese culture. After visiting some of the iconic sights of this amazing city, you can take a trip to explore the renowned Mekong Delta, the vast watercourse that empties one of the world's longest rivers into the sea.
Discover the Mekong Delta by visiting the floating market.
Next, you can go north to Hoi An and Hue, the ancient cities of Imperial Vietnam, with their stunning Imperial architecture and winding streets and alleys filled on all sides with new discoveries.
Then, you will visit Hanoi to experience the charms of the French Old Quarter before heading to discover the beauteous delights of Halong Bay.
With this kind of trip, you can add days to different places, if you want to better explore the cities of Hanoi or Hue, and discover some hidden charms inside. Or, if you add just one more day, you can take an epic 15-day tour of the east coast of Vietnam, stopping at additional destinations such as Vinh, Phong Nha, Qui Nhon, Nha Trang, and Mui Ne, to give you a more well-rounded experience of the country's amazing people and culture.
Conclusion
Vietnam is one of those destinations that can be seen in parts in shorter trips or as a whole in one long trip. The main choice is up to you and how long you have to travel. But you can be sure that there is a trip to Vietnam for every duration available. And if you really want to know more about the trips available for Vietnam right now, come and talk to us and let us make your Vietnam dream come true.
More Related Readings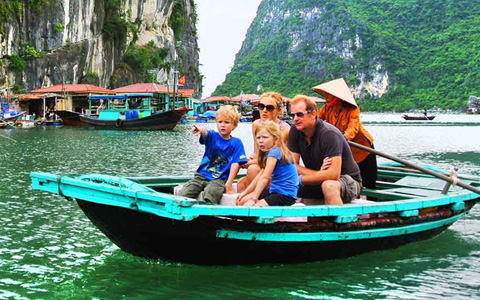 How Long is a Tour in Vietnam?
A tour in Vietnam can be for as long as you want it to be, and there are tours and itineraries to suit everyone. The main choice is up to you and how long you have to travel.